How long we had to wait! And now we get a great movie. A well made film with action, fear and archaeology (and this time there are no "Nazis" to be the "baddies" - who would have thought it?).

In 1939 the classic film "The Mummy" was made with Borris Karloff - a horror strip with cult status. Over sixty years later Stephen Sommer now tries his remake. And he uses all the trick techniques of the modern cinema. Realistic and alive scenes are created. That you can see some very "unnatural" computer effects in the beginning of the movie is only one exception. An unlimited number of grave beetles and artistically half-decayed animated mummies can fascinate just like Imhotep who can turn himself into a sandstorm - this is George Lucas' animation.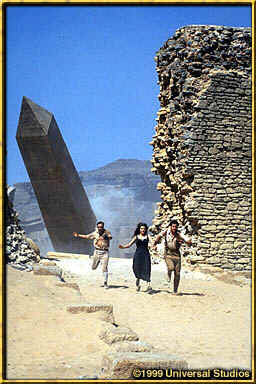 The leading actors John Hannah, Rachel Weisz and Brendan Fraser (see also photo on the right) put on a very good performance. The latter particularly seems to identify himself with his role.
More than once the movie uses the long-known fear of insects - especially of carnivorous giant insects which move from one point to another in a breath-taking tempo. But there are no bloody scenes or brutal shocks. Sometimes the mummy seems to be friendly and a litte bit awkward (Imhotep gets its eyes from a halfblind human...).
Most of the time you can enjoy the great sound and music atmosphere of this movie. Because of this the impressive special-effects with sandstorms and trembling earth become very effective.
Although it seems to be impossible, there are some myths and legends about occurrences in Egypt similar to those in this film. And in fact "The Mummy" walk nearly parallel to history - even if the discussions of the "Oldegyptains" sound a little bit confused (but noone's talking it today anymore).
Finally you can say that Stephen Sommer's "The Mummy" is a well made movie. From this day on any film in this genre will be compared not only with "Indiana Jones" but with this movie, too.
"The Mummy" gets the "CineClub-Movie-Award"!